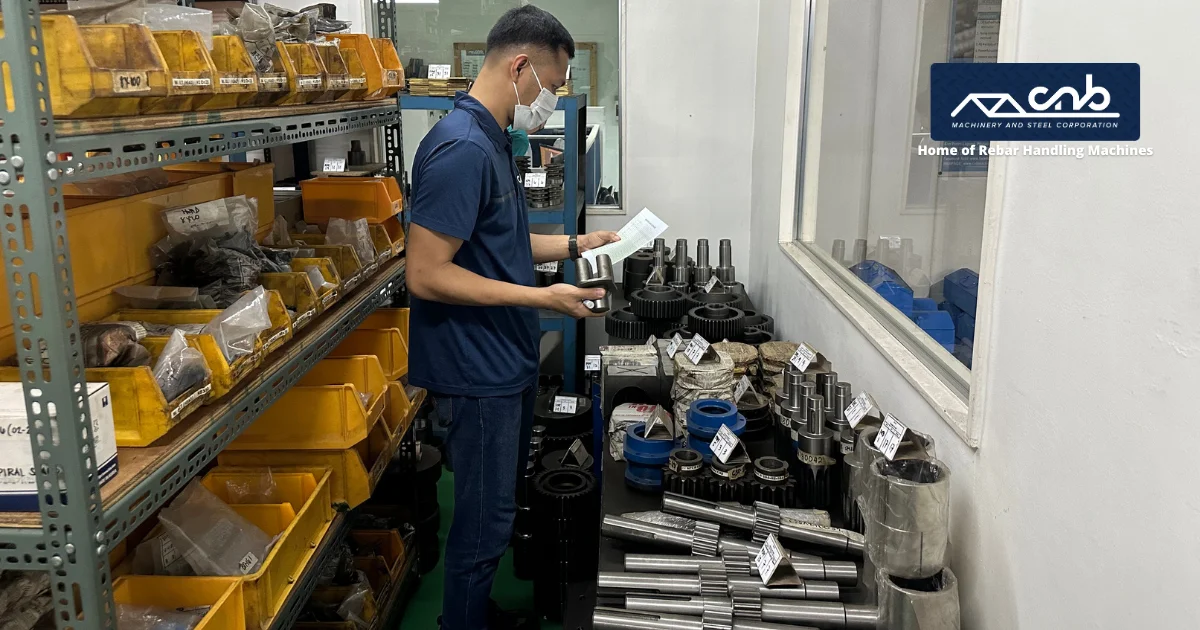 What is the importance of purchasing authentic spare parts for your rebar bender and rebar cutter?
First, authentic spare parts are much more durable and long lasting.
We highly encourage our clients to purchase authentic spare parts of their rebar bender and rebar cutters directly from us because we have the complete and brand new spare parts for all of the models of the machines we supply. The spare parts we supply are brand new and authentic making them durable and long lasting. Authentic spare parts differ in terms of quality compared to cheaper alternatives. Although the cheaper spare parts from other shops may seem lucrative in the short run, these spare parts only have a short lifespan which will ultimately make you spend more. Our spare parts are sourced properly and are authentic, which makes them durable and long lasting for our clients.
Second, alternative spare parts purchased elsewhere may be unfit for your rebar bender and or rebar cutter.
Many times, our clients report to us that their machines are not functioning after they purchased spare parts from a third party vendor which were not the authentic spare parts for their rebar bender or rebar cutter. Because they added spare parts that are not authentic, their machines ultimately got more damaged. This leads to higher costs in terms of purchasing new spare parts and an additional cost for repair. This is why we warn our clients from purchasing cheaper alternatives from third party sources, and rather directly purchase the spare parts from us. We do this because we care about our clients. We will not stop them from purchasing spare parts elsewhere if it does not result in more damages for our clients. But time and again we have received reports from our clients of their regret in purchasing spare parts from other sources and should have directly purchased from us to avoid unnecessary costs that could have been prevented.
Third, as the exclusive distributor of TAEYEON B&C rebar bender and rebar cutter, we have the complete spare parts in our warehouse.
As mentioned above, we have access to the authentic spare parts of all the models of our rebar bender and rebar cutter here at our warehouse. This is possible because we are the exclusive distributors of TAEYEON B&C rebar bender and rebar cutters here in the Philippines. Not only do we have all the rebar cutter machine models, rebar bender machine models, and our spiral rebar bender models you will need in your construction project, but also the complete spare parts of all of the models as well. This means that our clients do not have to wait for months until they have can get a hold of the spare parts that they need. They simply have to inquire to our sales team of the spare parts that they need.
For clients that need their machines to be checked because they are are malfunctioning, we also provide rebar bender and rebar cutter repair services. Depending on the state of the machine, our technician can either visit the project site of the client, or pull out of the machine from their project site and repair the machines in our warehouse. To book a machine repair service, kindly fill up a form here.
What must you do if you need spare parts?
Once again, the moment there is a problem in your rebar cutter or rebar bender, or if you need to purchase new spare parts for your machine, we highly recommend you to immediately email our sales team at [email protected] or call our sales team via landline by dialing (02) 8824-6386 , (02) 8824-6391  or by calling their mobile numbers by dialing 09178837792 , 09178837793. Our sales team will immediately coordinate with you to meet your requirements as soon as possible. Please make sure to take note of the payment details and do not hesitate to reach out to our sales team for any questions or concerns. For more videos of our machine, kindly visit our Youtube Chanel!