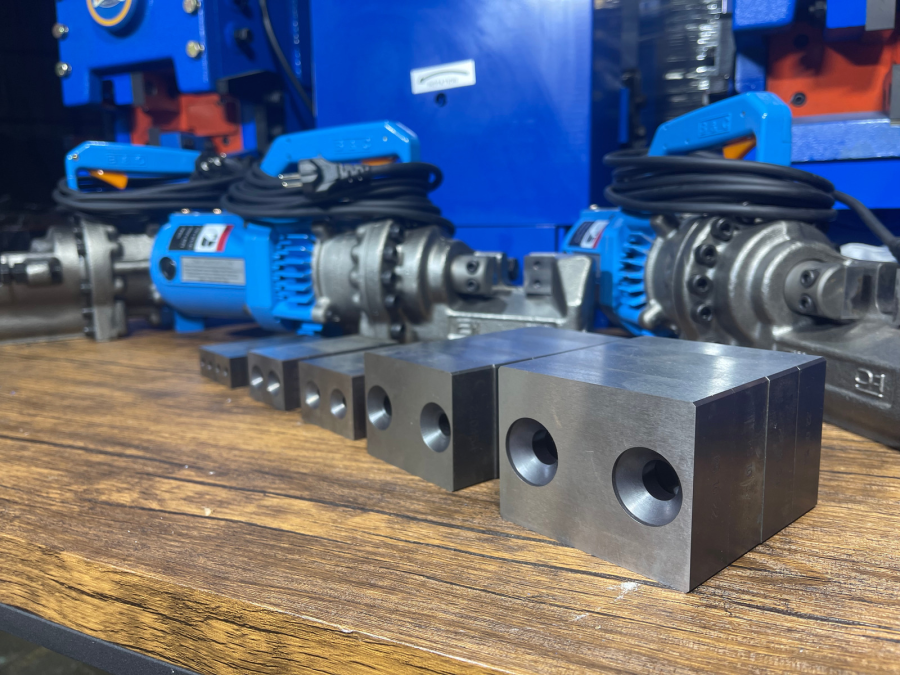 Why do you need a high quality bar cutter blade?
Bar cutting machines are usually used to its maximum capacity everyday in the construction site. Rebars also known as deformed bars have to always be ready in construction sites. The blades are the ones in contact with the rebars on a daily basis. It has to cut through hundreds, and even thousands of rebars everyday. This is why having a high quality bar cutter blade is very important for a bar cutting machine.
If your blade has damages after a a few days or weeks into the rebar cutting production, the quality of the bar cutter blade is highly questionable. With that being said, we take great pride in providing our valued clients with high quality bar cutter blades. Our bar cutting machines – TYC-HD42A (our 42mm bar cutter), TYC-D35 (our 32mm bar cutter) and TYC-NHD25 (our 25mm bar cutter) are all equipped with high quality bar cutter blades that are manufactured in South Korea along with the machines.
Moreover, we have cutter blades that are readily available in our warehouse for all our bar cutter models. Our cutter blades are durable and are made with high quality materials that guarantees a long lasting lifespan. All 4 sides of the bar cutter blades are usable for cutting, which makes it an extremely long lasting part. Once one side of the blade has been used to its full capacity, you simply have to untighten the bolts and change it into another side of the blade. You may watch the video here to learn how to replace your blade correctly.
Do not hesitate to contact our sales team if your bar cutting machine is in need of a bar cutter blade replacement. You may choose to either email us at [email protected] or directly call our sales team through the following numbers: GLOBE – 09178837792 , 09178837793 , SMART – 09255199158 LANDLINE – (02) 8824-6386 , (02) 8824-6391