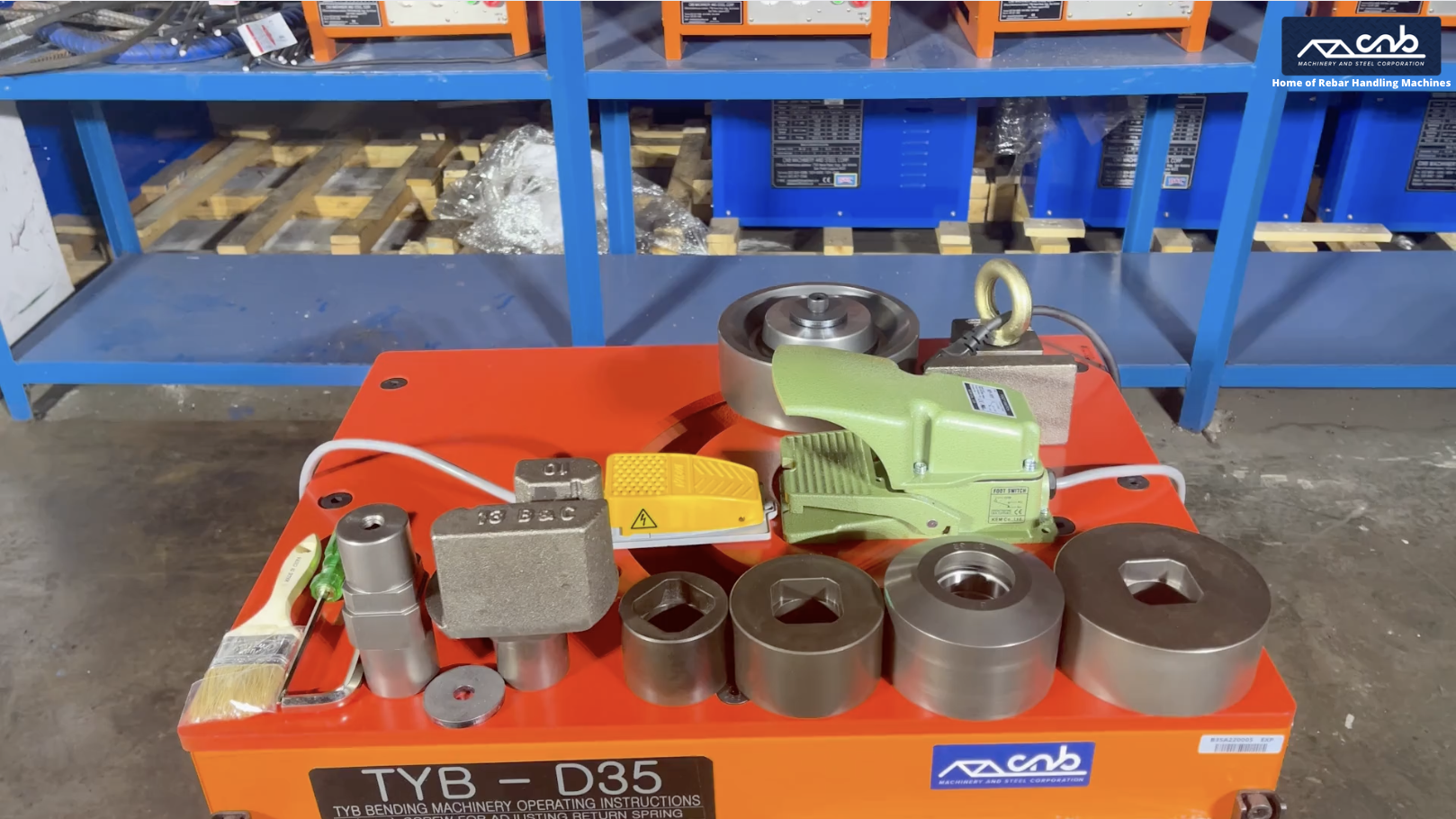 TYB-D35 : The Foreman's choice when it comes to 32mm bar benders
Ultimately, it is the foremen and machine operators who spend the most time with the electric rebar benders. This means that your electric rebar benders must be easy and simple for the machine operator to use and navigate. Our 32mm bar benders have been used by hundreds of foremen spreading across the Philippines, and they have been fantastic advocates of our products to their procurement officers. Our TYB-D35 lives up to its legacy in the Philippines as the most recognizable 32mm rebar benders.
Our TYB-D35 rebar bending machine has been designed to effectively bend up to 32mm rebars with ease, and creating stirrups. To have a better picture of the machine, you may watch the video here. The bar bender comes with 1 collar jig, 1 pin shaft, 2 footswitches, 2 rotating rollers, and 3 fixed rollers which are used for bending rebars until 32mm in diameters. You may choose to watch the roller combination guide by watching the video here. You can also choose to download the machine manual which also contains the roller combination of our 32mm bar bender TYB-D35 by accessing the machine manual here.
Our 32mm bar bender has been designed not only for simplicity, but it also has been designed for a better safety in terms of bending rebars. The machine is equipped with magnetic contactors that can detect any electric fluctuations from the power source that may damage the machine motors. Once the magnetic contactors detect any fluctuations, it will automatically shut the machine down for the safety of the machine operators. There also is an emergency switch button that can be triggered by pushing, and released by twisting the button in a clock-wise decision.
The TYB-D35 bar bending machine is not only high performing, but it is also durable. The parts of the TYB-D35 machine has been carefully selected by the manufacturers after careful selections. The machine also has been continuously upgraded according to the feedbacks of our valuable customers. As long as the machine is being used according to the guidelines that we have provided, our machine will continue to perform no matter how old it is. In the case of any form of machine blackout and function, we have our after sales team ready to consult with you using online channels.
In the case of the need of machine repairs, you may refer to this page for the contact details to reach out to any of our after sales agents for consultation. You may also immediately book an on-site repair wherein our technicians will visit your company or warehouse for the machine repair, or our in-house machine repair service wherein the machine will be repaired in our warehouse.
Electric rebar benders are one of the frontliners of the construction project site. The bar bending machines must always be ready to perform at all times in the project site. This is why we have exerted a lot of our efforts into creating a safe and easy to operate 32mm bar bender, that is also extremely durable and reliable. We know that a delay of a few days of being able to bend rebars in a constructions will cause a massive delay in meeting the requirements.
This is why we have taken into count of the importance of having not only an high performing machine, but also an high performing machine that is backed up with a customer-centric warranty period, as well as the readily availability of its spare parts. To request a formal quotation of the 32mm bar bender, any of its spare parts, kindly email us at [email protected] or fill up the form here to receive immediate assistance from our after sales team.